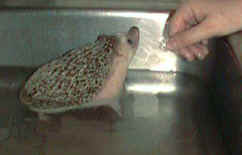 Murray took baths only under duress. She took a brief shower in warm water in the sink and then was nicely lathered with Johnson & Johnson's lovely smelling lavender baby wash. If she was especially dirty, we gently brushed her lathered quills with a soft toothbrush set aside for just that purpose. We made sure to thoroughly rinse her and then dried her in towels before letting her go back to her pet corral.
We generally avoided bathing her when it is cool outside but when absolutely necessary, we dried her with a hairdryer on a low setting. She would occasionally freeze and close her eyes ... we think she enjoyed it.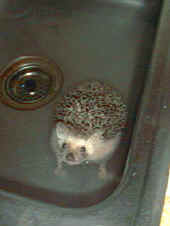 At one point, we decided to give Murray a more interesting bath experience. After giving her the typical bath, we filled the sink with a couple of inches of warm water and put her back down in it. Hedgehogs are very good swimmers, but Murray had never had the opportunity to try it out. Since this was the first time she had dealt with this much water, we didn't give her enough depth to actually swim.
She wandered around in the sink with (as you can see) enough water to come up to her chin. She didn't seem to be bothered by it much and tried only once to climb out of the sink. We considered this a good sign since she always tried to escape from the sink during regular baths.